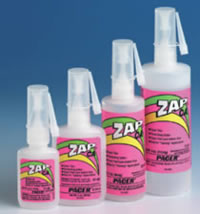 ZAP CA (Pink Label) Thin Viscosity
SUPERIOR PENETRATING FORMULA
SUPER THIN - WATER LIKE CONSISTENCY
BONDS AND CURES IN 1 TO 5 SECONDS
WORKS ON MOST MATERIALS
AVAILABLE IN 5 CONVENIENT SIZES
PT-06 4 oz. Zap CA
PT-07 2 oz. Zap CA
PT-08 1 oz. ZAP CA
PT-09 1/2 oz. Zap CA
Super-thin penetrating formula. Works great on most materials, especially Balsa and other soft woods. Excellent "wicking" action. Strengthens fiberglass cloth. Some uses besides hobbies and crafts include; jewelry manufacturing and repair, taxidermy, mold and pattern making, furniture refinishing and antique repair, auto detailing, archery, darts, and ceramic repair. Bonds in 1 to 5 seconds.
Works best on:​ Aluminum, Ceramic​, Leather​, Metal​, Most Plastics​, Pottery​, Rubber​, Veneer​, Wood

ZAP-A-GAP CA+ (Green Label) Medium Viscosity
SUPERIOR GAP FILLING FORMULA
MEDIUM VISCOSITY​
ALLOW APPROXIMATELY 7 TO 10 SECONDS FOR PART POSITIONING​
AVERAGE OF 20 SECONDS FOR CURING​
WORKS ON OILY SURFACES​
USE ZIP KICKER TO ACCELERATE CURE TIME​
AVAILABLE IN 5 CONVENIENT SIZES​
PT-01 2 oz. Zap-A-Gap CA+
PT-02 1 oz. Zap-A-Gap CA+
PT-03 1/2 oz. Zap-A-Gap CA+
PT-05 4 oz. Zap-A-Gap CA+

Fills gaps. Works well on harder woods such as Bass and Spruce, even works on oily surfaces! Some uses besides hobbies and crafts include; jewelry manufacturing and repair, taxidermy, pool cue tips, darts, archery, knife making, mold and pattern making, furniture refinishing and antique repair, and for fishing, fly line splicing and fly tying. Wood turners and manufactures of custom wood products appreciate the ability of ZAP-A-GAP CA+ to help save their projects by filling in and bonding cracks that often occur in expensive hard woods. Allows 7 to 10 seconds for positioning. Accelerate the cure with Zip Kicker.
Works best on: ​ Aluminum, Ceramic​, Leather​, Metal​, Most Plastics​, Pottery​, Rubber​, Veneer​, Wood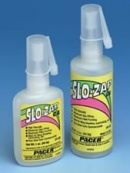 SLO-ZAP CA Thick Visoscity
VERY HIGH VISCOSITY FORMULA
SUPER THICK AND SUPER STRONG​
ALLOWS PART POSITIONING FOR APPROXIMATELY 30 TO 40 SECONDS​
USE ZIP KICKER TO ACCELERATE CURE TIME​
AVAILABLE IN 2 SIZES​
PT-20 1 oz. Slo-Zap CA
PT-33 2 oz. Slo-Zap CA
Thick and strong for high-stress areas. Works well on hard woods such as Maple and Oak. In modeling its ideal for laminating wood parts and forming fillets. Because its thick, it will not run, it forms a very clean even fillet around all types of joints. The high cured strength means it works great on higher stress areas. Allows 30 seconds for positioning and cures in 60 seconds or less. To accelerate cure time use Zip Kicker.
Works best on:​ Aluminum, Forming Fillets, Laminate​, Metal​, Most Plastics​, Rubber​, Wood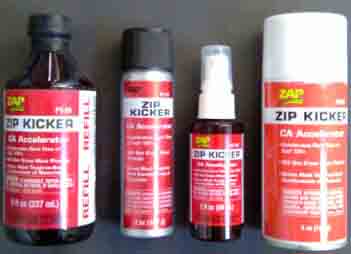 ZAP ZIP KICKER (CA ACCELERATOR)
FORCES IMMEDIATE CURE OF CYANOACRYLATE GLUE
BEST ACCELERATOR FOR ZAP AND ALL OTHER CA GLUES​
EXPANDS GAP FILLING CAPACITY​
SOLVES MOST TOUGH TO BOND MATERIAL COMBINATIONS​
AVAILABLE 2 DIFFERENT WAYS​
PT-15 2 oz. Zip Kicker Aerosol​
PT-29 8 oz. Zip Kicker Refill
PT-50 5 oz. Zip Kicker Aerosol
PT-715 2 oz. Zip Kicker Pump Spray (Refillable)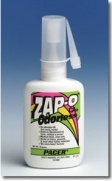 ZAP FOAM SAFE ODORLESS Medium Viscosity
ODORLESS FORMULA

MEDIUM GAP FILLING VISCOSITY​

WORKS ON STYROFOAM ​AND FOAM WITHOUT PRIMER

WORKS ON BALSA, PLYWOOD & OTHER MATERIALS AS WELL​
PT-25 .7 oz. Zap-O Foam Safe CA
Must be used in conjunction with Foam Safe Kicker # PT-28
​Zap-O Foam Safe CA is a true odorless CA. It has the same gap filling properties as Zap-A-Gap CA+ but without the fumes. It works great on balsa, plywood, bass wood and most other modeling and hobby materials. Zap-O Foam Safe CA is also great for craft work when gluing foam shapes or various materials to foam products. Medium thick formula that cures in 15 seconds. Packaged in a 20-gram bottle. To cure properly, Zap-O Foam Safe CA must be used with Zap Foam Safe Kicker (PT-28).
Works best on:​ Carbon Fiber, Cell Foam​, Ceramics​, EPS Foam​, Foam Board​, Polystyrene​, Wood​, XPS Foam

ZAP FOAM SAFE KICKER (ACCELERATOR)
SAFE ON MOST FOAM PRODUCTS, WHEN USED IN CONJUNCTION WITH ZAP FOAM SAFE CA
COMPATIBLE WITH MOST OTHER FOAM SAFE CA'S​
WORKS ON BALSA, SPRUCE, PLYWOOD, PLASTIC, METALS, ETC.​
FORCES MOST CA'S TO CURE IN 10 SECONDS OR LESS​
INCREASES GAP FILLING AND FILLET FORMING COMPATIBILITY ​
​NON-FUMING FORMULA
PT-28 2 oz. Zap Foam Safe Kicker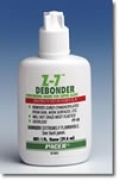 ZAP Z-7 CA DEBONDER​
DEBONDING AGENT FOR ALL SUPER GLUES
REMOVES CURED CYANOACRYLATE​
WILL NOT CRAZE MOST PLASTICS​
ODORLESS​
PT-16 1 oz. Z-7 Debonder
Debonding agent for all super glues. Softens cured glue so it can be easily removed from fingers and other surfaces.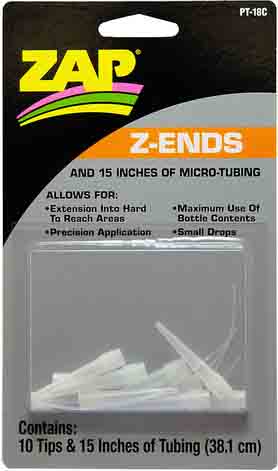 ZAP Z-ENDS
10 EXTENDER TIPS
12" MICRO-DROPPER TUBING​
WORKS WITH ALL SIZES OF ZAP BOTTLES​
PT-18 Z-Ends
Extender tips allow smaller drops of glue to be placed in hard-to-reach areas. Ten tips, plus a 12" length of micro-dropper tubing.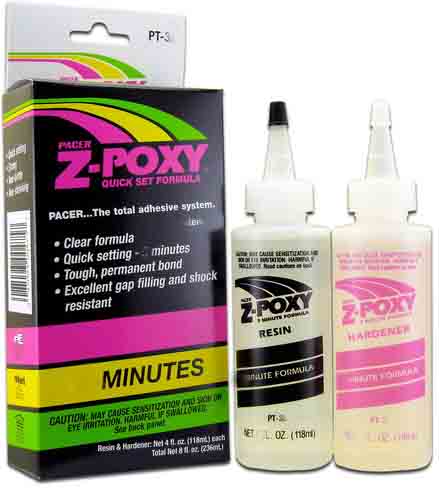 Z-POXY 5 / 15 / 30 Minute EPOXY RESIN
5 / 15 / 30 MINUTE CURE
CLEAR FORMULA​
TOUGH PERMANENT BOND​
SHOCK AND VIBRATION RESISTANT
FUEL PROOF ​
​EXCELLENT GAP FILLER
PT-35 4 oz. 15 Minute Epoxy
PT-37 4 oz. 5 Minute Epoxy
PT-38 8 oz. 5 Minute Epoxy​
PT39 8 oz 30 Minute Epoxy
ZAP Z-POXY is a two part epoxy adhesive that dries clear. Vibration resistant and fuel proof, this epoxy is perfect for all types of hobbies and crafts. Use it on all fire wall and engine mount installations, its perfect for attaching bulkheads and formers in epoxy glass fuselages and model boat hulls. Handy to have at home for all types of fix-it jobs, great to have in the shop for all types of wood working and furniture repair. It does not get brittle with age and its easy to mix, just combine equal parts by volume. Durable and sand-able.
Works best on:​ Aluminum, Ceramic​, China​, Crafts​, Fabric​, Fiberglass​, Furniture​, Glass​, Metal​, Most Plastics​, Pottery​, Rubber​, Tile​, Wood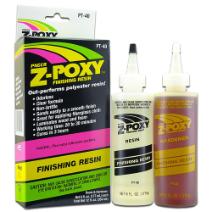 Z-POXY FINISHING RESIN
VERY LOW ODOR
CLEAR FORMULA
NON BRITTLE
20 TO 30 MINUTE WORKING TIME, HARD IN 3 TO 4 HOURS
FULL CURE IN 6 TO 8 HOURS
SANDS EASILY
PT-41 4 oz. Finishing Resin
PT-40 12 oz. Finishing Resin
Z-Poxy Finishing Resin is a premium light weight two part epoxy laminating/finishing type resin. Use for fiber-glassing the center section of a wing or the entire airplane. Great for sealing model boat hulls, inside and out. Use to seal all engine and fuel tank areas. It is absolutely the best for sheeting foam wing panels. It will bond to itself and does not get brittle with age. Long cure formula for easy application, sands easily for a smooth finish and is compatible with many polyester resins.
Works best on:​ Aluminum, Ceramic​, Cloth​, Glass​, Most Plastics​, Pottery​, Wood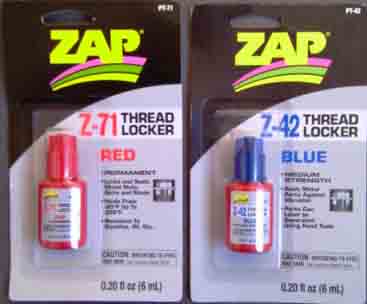 ZAP Z-42 BLUE & Z-71 RED THREAD LOCKER
PREMIUM GRADE
FORMULATED FOR METAL TO METAL​
DISASSEMBLE Z-42 WITH HAND TOOLS​ and Z-71 WITH HEAT
PREVENTS LOOSENING DUE TO VIBRATION​
PT-42 .20 oz. Z-42 Blue Thread-Locker
PT-71 .20 oz Z-71 Red Thread-Locker​
Finest thread locker you can buy! Lock set screws, axle and drive nuts, engine mounting screws, or any screw that keeps your R/C airplane, helicopter, car, or boat from coming apart. But ZAP Thread Locker isn't just for hobbies, use on vehicles, boats, lawn equipment, tools, bicycles, and even toys. Anywhere fasteners are subjected to vibration that can cause them to loosen and fall out. ZAP Thread Locker helps to keep things together.
Works best on:​ Bolts, Nuts​, Screws​, Thread Fasteners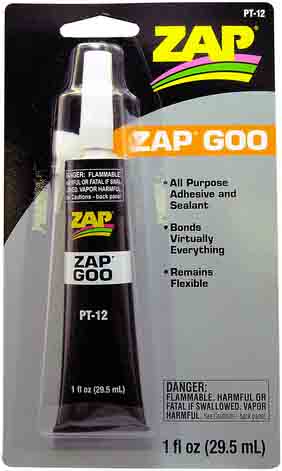 ZAP GOO
ALL PURPOSE ADHESIVE & SEALANT
BONDS VIRTUALLY EVERYTHING​
DRIES CLEAR​
REMAINS FLEXIBLE​
WORKS WHERE OTHERS WON'T​
PT-12 1 oz. Zap Goo​
Strong flexible adhesive/sealer. Bonds anything. Bonds can be cut with a razor knife. ZAP GOO is an excellent adhesive for today's high tech composite airplane, boat, and car hobby products, and great for all of those fix-it, mend-it, seal-it, and stick-it jobs around the house. 1 fl oz tube.

FORMULA 560 CANOPY GLUE
WORLDS BEST CANOPY GLUE
EXCELLENT FOR ANY CLEAR PLASTIC ​
CLEAR AND FAST DRYING​
DRIES FLEXIBLE​
NON-TOXIC​
WATER CLEAN UP​
PT-56 3 oz. Formula 560 Canopy Glue​
The world's best canopy glue. 560 dries clear making it the perfect glue to use for attaching airplane canopies and vacuum formed ABS parts. The excellent shock resistant flexible bond means your airplane parts will stay put even when subject to high vibration and extreme speeds. 560 is also an excellent craft glue. The nontoxic and water based formula means kids can safely use it for their special projects.
Works best on:​ Canopy, Canvas, Clay, Cloth​, Fabric, Foam​, Most Plastics​, Plaster​, Vinyl​, Wood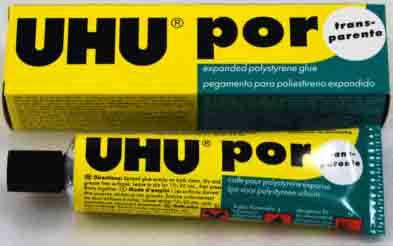 UHU Por STYROFOAM ADHESIVE
ELASTIC, WATERPROOF CONTACT ADHESIVE
INSTANTLY BONDS POLYSTYRENE TO ITSELF
UHU45900 40g tube Por Styrofoam adhesive
Fast drying adhesive especially designed for bonding expanded polystyrene components or to many other materials. By category it is a contact adhesive, i.e. dual-side application of adhesive is required.
Suitable for polystyrene, wood, many plastics, metal, glass, paper and cardboard
Important. Make sure: the solvents do not dissolve the material.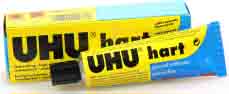 UHU HART BALSA CEMENT
DRIES CRYSTAL CLEAR​​
FAST DRYING ADHESIVE​
UHU45510 35gm tube Balsa Cement​
A fast setting adhesive ideal for model building, handicraft and general use in the home including general household repairs. Suitable for sealing and reinforcing surfaces of various materials. Dries clear and hard so ideal for reinforcing glued joints and for stiffening/sealing surfaces.
Resistant to water, oil and grease.
suitable for balsa and other woods and in combination with metal and some plastics.
Not suitable for PE, PP and polystyrene foam (depron).